Property for sale and property for rental in Flamingo Vlei, Blaauwberg, Cape Town, South Africa
Flamingo Vlei is so named as it borders the important world ecological site, Rietvlei Nature Reserve, where Flamingos can often be seen. Rietvlei Nature Reserve plays an extremely important role as a stopping over area for migratory birds. For more information on Rietvlei Nature Reserve, please click here.
Flamingo Vlei is also home to SANCCOB, the organisation famous for the recovery and rehabilitation of sea birds, often in dire stress as a result of oil spills off the Cape Coast . For more information on SANCCOB, please click here.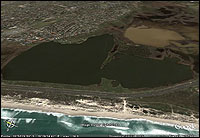 Aerial Image of Flamingo Vlei

The Milnerton Aquatic Club is also based at Rietvlei, offering some of the best watersports available in Cape Town , including boating, waterskiing, windsurfing, etc. For more information on the Milnerton Aquatic Club, please click here.
Flamingo Vlei has a major shopping Centre, namely the Pick 'n Pay Mall as well as the Table View Police Station within its precincts.
Further development of the Flamingo Vlei is not really possible, as the vlei area around it prevents any further construction. There is however a buoyant market in resales in Flamingo Vlei.
Looking for property to buy or rent in Flamingo Vlei or wanting to sell property in Flamingo Vlei?

Please feel free to complete the form below with your property requirements and we will contact you within 24 hours.